Space: God, the Universe and Everything
Oxford, UK, Friday, 1 November 2019
SPACE: God, the Universe and Everything
Part of Illuminating Oxford: Two nights of spectacular light and sound come to Oxford
Saturday 16 November, 5.30pm-9.30pm
The University Church is very proud to be hosting a stunning visual spectacle inspired by the 1969 Moon landing, in collaboration with Fusion Arts and Luxmuralis. Created by the award-winning Luxmuralis artistic collaboration, the exhibition features internal son et lumière, artworks, and sound and light installations that transform the internal space of the church.
This is the second collaboration between the University Church, Luxmuralis, Fusion Arts and the Oxford City Council. In November 2018, the University Church hosted 'Imagine Peace', a profound and reflective installation on the art of peacemaking in the modern world, as we marked 100 years since the end of the First World War.
The Revd Dr William Lamb, the Vicar of the University Church said: "This stunning son et lumière, with its themes of space, discovery, and the sheer magnificence of the universe, provokes in us a capacity for wonder. At a time when a kind of ruthless cynicism prevails in our society, a capacity for wonder is something that we badly need to recover. We hope that many Oxford residents will come to enjoy this gift to the city. It is completely free and we would love to welcome you to St Mary's."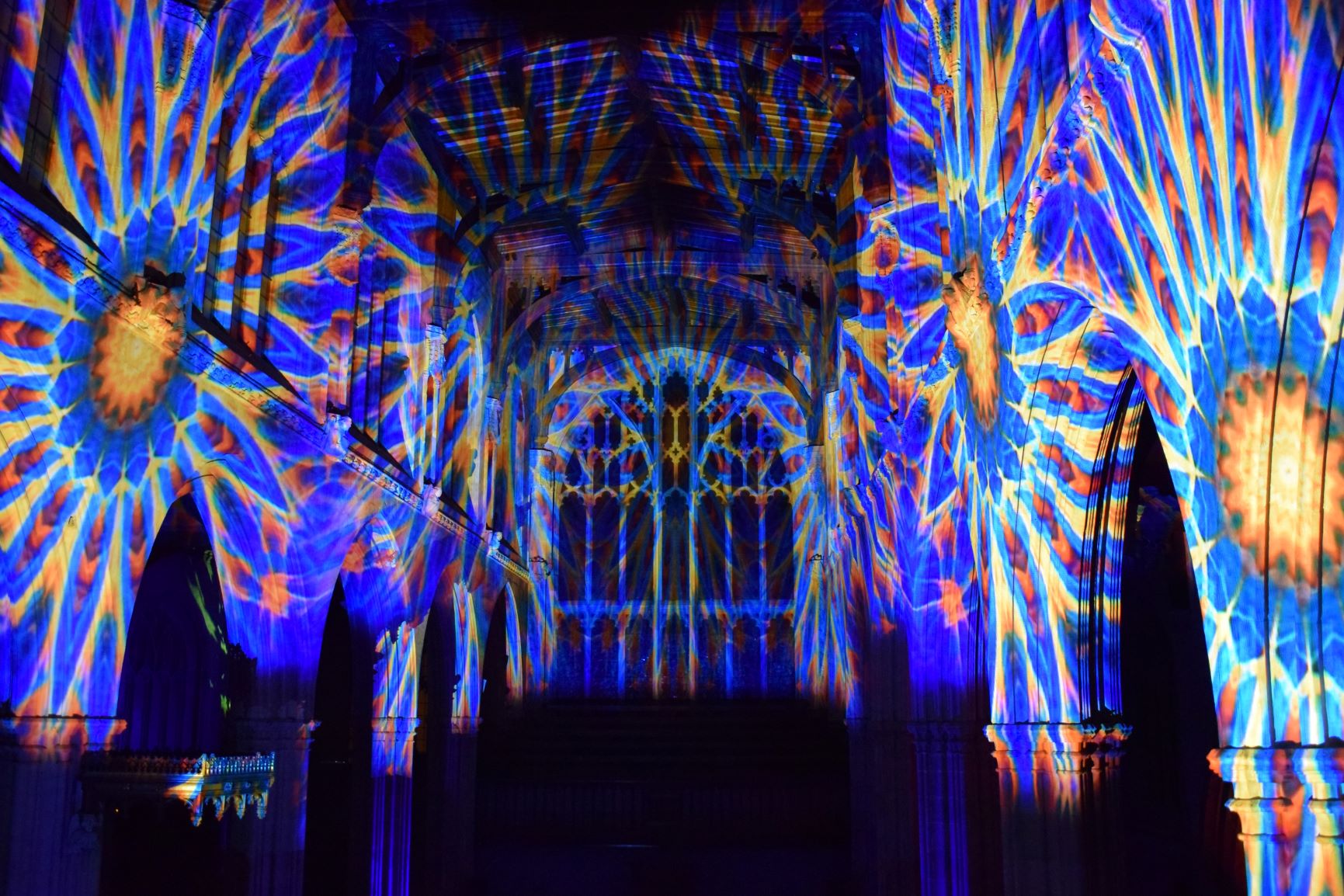 'Imagine Peace' –
University Church
November 2018
Illuminating Oxford is part of this year's Christmas Light Festival produced by Oxford City Council. This year's festival "Discovery" is inspired by scientific discovery and by the 50th anniversary of the first moon landing. It runs Friday 15th - Sunday 17th November with lots of exciting events over the weekend of the festival. Oxford's cultural organisations come together to present a dazzling array of performances, exhibitions, events and workshops for everyone in Oxford to enjoy.
Illuminating Oxford 2019 is supported using public funding by the National Lottery through Arts Council England.
Entrance via the High Street. No parking on site.
Step-free access.
Notes for Press
For further information, including photography, please contact:
Ana-Maria Niculcea, Communications Officer,
University Church of St Mary the Virgin, High St, Oxford OX1 4BJ
e. ana-maria.niculcea@universitychurch.ox.ac.uk
t. 01865 279119
About the University Church
The University Church of St Mary the Virgin is the official church of the University of Oxford and the spiritual heart of the oldest university in Britain. With dignified liturgy, thoughtful preaching and beautiful music, it has been a place of Christian worship for over a thousand years. Today, we strive to be a community of faithful Christian witness and intelligent debate, unafraid to engage with the modern world.
https://www.universitychurch.ox.ac.uk/
About Luxmuralis
Luxmuralis are a collaborative team combining lead artist Peter Walker and Composer and Oxford resident, David Harper – creating works across multiple media and presentation formats. The primary purpose of Luxmuralis is to take art onto the streets and provide access to visual artwork in public as well as unexpected places.
Peter Walker
With over 20 years experience as an artist and sculptor Peter has been creating work with moving image and light since 2007. Peter brings this experience of large scale projection work to help realise this project as a high quality, high impact new artwork. Recent work from Luxmuralis include: Poppy Field which toured Lichfield Cathedral, St Albans Cathedral, Guildford Cathedral, Christ Church Cathedral Oxford; Lichtfestival in Limburg Germany; Earth What a Wonderful World - Lichfield Cathedral; The Maker of Middle Earth - Bodleian Libraries. Currently Peter is Artist in Residence at Litchfield Cathedral.
http://www.lichfield-cathedral.org/about-us/artist-in-residence
Kathryn Walker
Kathryn is a researcher who works outside of institutions within communities and can be described as developing a socially engaged artistic practice. Currently Kathryn's research is focused upon aspects of British culture, the projects here offer an insight into the microcosms found within fields of research that have been studied in the UK to gain insight into anthropological areas of investigation, and will be of interest to anyone currently looking at areas such as: Material culture, History, Art, Environmental Landscape, Economy, Health and Education.
http://socialanthropologist.co.uk
Partners and Supporters:
Fusion Arts                                                                http://www.fusion-arts.org
Oxford's Christmas Light Festival 2019                     https://www.oxlightfest.com/
Oxford City Council                                                   https://www.oxford.gov.uk/
Oxford University Museum of Natural History           http://www.oum.ox.ac.uk
Pitt Rivers Museum                                                   https://www.prm.ox.ac.uk
Bodleian Libraries                                                     http://www.bodleian.ox.ac.uk
Oxford University's Gardens, Libraries                      https://www.glam.ox.ac.uk
and Museums  
Illuminating Oxford 2019 is supported using public funding by the National Lottery through Arts Council England.